Neocortical interpretation of haptic events across brain states
During active exploration, the brain can enter different states. To investigate the principles by which the internal brain states affect the neocortical brain representation of haptic events, the fellow will use fixed sets of artificial spatiotemporal tactile afferent activation patterns and subsequently the haptic display across spontaneously or experimentally induced changes in brain states to explore the related decoding. Furthermore, the principles of sensory augmentation, and its dependence on brain state, will be explored.
Interpretation of haptic input features in neocortical neurons.
Host institution: Lunds Universtitet
Enrolments (in Doctoral degree): Lunds Universitet
Henrik Jörntell, Peter König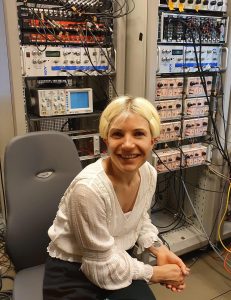 My name is Sofie Skårup Kristiansen. I am 28 years old, born and raised in Copenhagen, Denmark. I have a bachelor degree in Psychology and a master degree in Neuropsychology. I am interested in multisensory integration and the representation of sensory systems in the brain.